Guarantee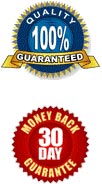 We want you to be happy with our service.
We believe that we have developed the cheapest data recovery service available in Malaysia today. No other company will recover your data for less.
However, we realise that buying services over internet can make some people feel a bit uneasy.
That's why we offer a no quibble guarantee that completely eliminates any risk, fear or uncertainty you may feel.
Therefore if within 30 days of purchase you find another company in Malaysia offering a cheaper service, we'll give you your money back - IN FULL!
Guaranteed!